"There Will Be Rainbow" | Summer 2023
THERE WILL BE RAINBOW is an elegant and captivating collection of 12 piano pieces composed over the past decade. Not originally planned as a complete work, it has unfolded over time as a full-length suite that shares the same overall theme of harmony and reflection. This set of 12 interconnected pieces leads a continuous narrative from beginning to end, closing with the eponymous title track. All original compositions (except for Naima, a paraphrase of the acclaimed piece by John Coltrane), it seeks to illuminate and embolden the listener. The rainbow is used as a symbol, a metaphor for a glimmer of hope that drives us forward in the times of sadness and sorrow. The themes from THERE WILL BE RAINBOW are a perfect reflection of the project's core musicality and concept.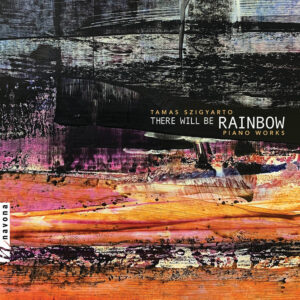 Released through Nanova Records. More details and liner notes can be found here: https://www.navonarecords.com/catalog/nv6551/
Listen: https://tszigyarto.bandcamp.com/album/there-will-be-rainbow
"Fragments" for piano | Spring 2022
"Fragments" is a set of thirteen piano vignettes written between 2019 and 2021 as a continuous narrative, reflecting on the different aspects of contemplation: poetic, emotional, meditative, melancholic and restrained. Also, "Fragments" bridges two cities that became central in my life: London and Saint-Petersburg. Each movement written in one of them and almost every piece carries images and mood of these cities that are so dear to my heart.
A few pieces have direct relation to works of composers I have always admired and grown up with. "Prelude" and "Lament" inspired by Ravel's short pieces and "Pavane" employs theme from his "Ma mère l'Oye" pavane. "Pastorale" draws the mood and setting from Aaron Copland's pastorale piano works. "Waltz" and "Elegia" inspired by Debussy's early compositions. "Novelette" is directly related to Sergey Banevich's "Mermaid" children's album and pictures Baltic Sea waves and west wind blowing over the waters.
Released on Oclassica label.
Listen: https://tszigyarto.bandcamp.com/album/fragments
Membrany / Мембраны | Spring 2021
Piano fantasy on the end of the world (piano + synth). Inspired and directly related to Elena Oleynik's poem of the same name written in Dec, 2018.
Reviews
Berlin On Air: https://www.berlinonair.cc/post/653949434608189440/tamas-szigyarto-membrany-klassik (german)
Indie Dock Music: http://indiedockmusicblog.co.uk/?p=2476
Sinusoidal Music: shorturl.at/byN18
Roadie Music: https://roadie-music.com/tamas-szigyarto-as-teclas-sentimentais-por-tras-de-membrany/ (portuguese)
Hauméa Magazine: https://www.haumeamagazine.com/en/haumea-playlists-16/
Official video
Blue Hour | Spring 2020
Two-part piano poem written together with Elena Oleynik. Consists of two inter-related pieces: "Dusk In My Window" (by Elena Oleynik) and "Tilted Shadows" (by Tamas Szigyarto). "Dusk In My Window", which is part of Oknovokean (piano + viola duo) repertoire, was specifically re-worked by Lena for this duo project. Whereas "Tilted Shadows" is an answer piece written to reflect on the original motif of the "Dusk" picturing the bright side and hope of the original A minor theme and ends in the A major key.
Listen: https://tszigyarto.bandcamp.com/album/blue-hour
(sheet music available upon request)
Memory Waves | Summer 2019
Three-part mini suite written in summer 2019 and released in Oct 2020.
I. Rupture
II. Reflections
III. Release
Listen: https://tszigyarto.bandcamp.com/album/memory-waves